第1回 ハムたま「開闢-Opening-」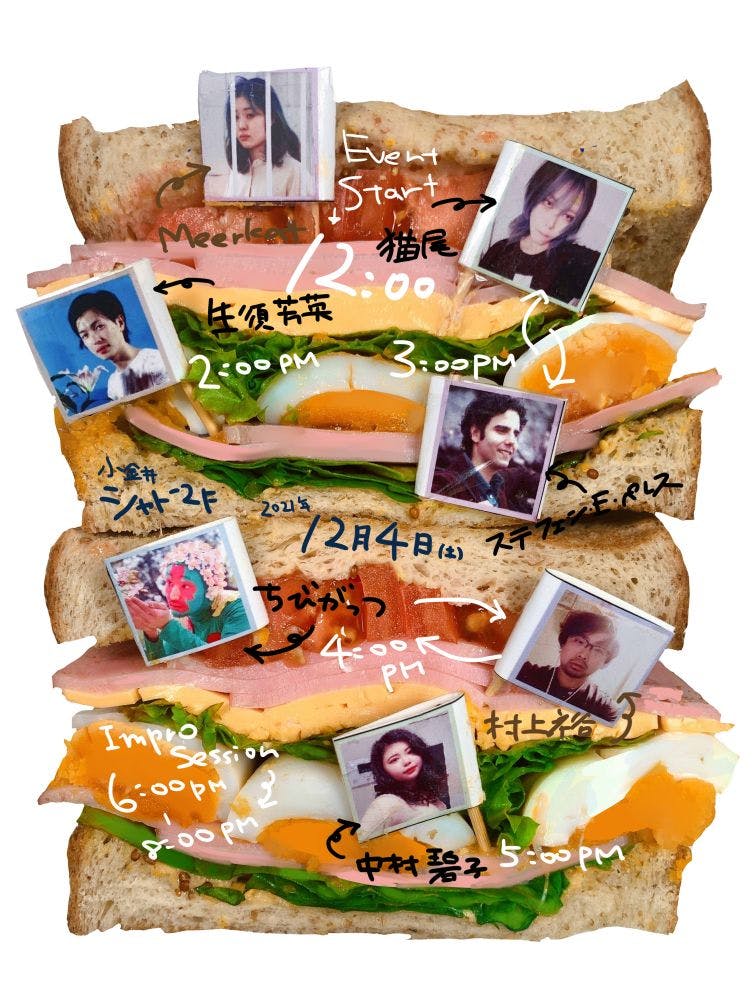 日時 : 2021年 12月4日土曜日 正午12:00start
  途中入退場OK!
場所 : KOGANEI ART SPOTシャトー2F
  東京都小金井市本町6-5-3 シャトー小金井 2F
    JR中央線武蔵小金井駅南口から徒歩5分
入場料 : 一般 1000円
     学生 500円
コロナウィルスの感染対策にご協力お願いします。
(出演者およびスタッフは当日に全員コロナウィルス抗原検査を行った上でイベントに参加します)
第1回のパフォーマンステーマは「開闢-Opening-」
開闢(かいびゃく)とは、天と地が初めてできた時、世界の始まりの時、荒れ地などが切り開かれること。和英辞書で"開闢"は{beginning、origin、source、root、offset、outset、kickoff}など説明される。
It may be a bit of an exaggeration, but the core members of the organizing team were willing to take on the challenge of this event. And as powerful as the keyword "opening" was, the members gathered for the first event. What kind of crossover will there be between conceptual performance, happenings, dance, music, song, noise, ritual, and various physical media.
ちびがっつ-CHIBIGUTS
https://www.chibiguts.com/
ステフェン・E・ペレス -Stephan・Elliot・ Perez
https://www.selliotp.com/
猫尾-NEKOH
https://www.instagram.com/kiki_nir/
生須芳英-Namasu Yoshihide
https://yoshihide-namasu.tumblr.com/
中村碧子-Nakamura Midoriko
https://standup.digital.tokyo-np.jp/voi.../midorikonakamura/
This will be joined by the organizing core members, Hiroshi Murakami and Meerkat, who will perform in collaboration with the performers. After the performance, the performers will have a conversation about the performance. Whether you don't know anything about performance art, love live media, or want to expand your artistic horizons, this will be an event where you can take home something. I look forward to seeing you there!